For Sale: 1998 Ford F-150 XLT V8 4.7L Longbed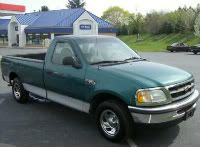 Less than 98,000 miles!

Features:
Automatic transmission
Air Conditioning
Tilt Wheel
Dual Front Airbags
Cruise Control
Power windows/locks
AM/FM Stereo with CD player
Bed liner
4-Wheel drive
Current Maine inspection sticker, expires March 2010
This vehicle is in good condition, with very little rust on the body. It has been used very lightly. It has the tendency to break down whenever it senses that it is going to be used for the sole purpose a truck of this size was created. On two separate occasions, the brake lines have exploded and the starter has failed, each time when I was about to use the truck to move from one apartment to the next. 
I am fed up with this vehicle and would like to get it off of my hands. Any reasonable offers will be considered.
P.S. I'm not really selling my truck, as much as I'd like to right now. I'm just frustrated with having to get my truck towed to a garage after it broke down Monday with a truckbed full of stuff going to the new apartment. Nothing like a surprise car repair to add to the stress of moving.