Dear Local Convenience Store Clerk,

You probably don't remember me, but that's okay. I was just one of a thousand faces you see every day, and I wouldn't expect you to remember any specific one. Not that you could anyways, what with your head so far up your ass, and all. 
See, I stopped into your gas station to pick up a half gallon of milk after I had finished pumping my gas. We've been going through cereal like crazy at my house, and since we don't own our own
Holstein
, store-bought moo-juice will have to suffice. I waited in line to make my purchase, behind the guy who smelled like a yard of fresh mulch and the woman who looked like she got kicked out of the year 1987. I maintained a safe distance behind them, holding my wallet in one hand and the jug of milk in the other. There were two cashiers working, but I drew the short straw and got you.
When it was finally my turn, I approached the counter and set the milk down on it. I rummaged through my wallet for my debit card, and you scanned the bar code on the milk. Then, in your peculiar dry-yet-wet-like-the-slime-residue-left-behind-a-slug country dialect, you spoke.
"That all?" you said. You didn't look up at me at all, but that's okay. I understand that using a cash register requires a lot of attention, and sometimes forces people to use incomplete sentences. Given the circumstances, I'll forgive that.
"Yeah, that's all," I replied. I wondered if he saw the invisible Slim Jim sticking out of my back pocket that I was intending to steal. 
"No gas?" You looked up at me then, and I saw the red lining around your eyes. I guessed you either had a new baby at home, conjunctivitis, or a bong in your car. 
"No, I already paid for my gas." 
"Uh..." you said, being sure to be as articulate as possible.
I pointed out the plate glass store front. "See that truck? The green one at pump 14? That's me. I paid with my debit card at the pump, and then came in here to get milk." 
You just continued looking at me, and soon I could see a flicker of understanding that grew into a firm grasping of what I just said. Kind of like a compact fluorescent light bulb when you first turn it on.
"Why dinnt you git yer milk furst, an' pay fer dat an' yer gas all at once?"
"I guess I don't know," I replied evasively. Did it really matter? "I guess I just didn't think to."
"Well, nex'time, we're prefur it if you'd mayke all yer credit card purtchases at once. Saves on transakshun fees."
This, to be honest here, kind of stunned me. Were you really asking me to change my purchasing habits to help
you
save money? You obviously slept through the part of your training class devoted to proper customer service. I weighed out my options for a response, but settled on staying quiet for a moment. You waited for me to slide my debit card through the reader and enter my pin number before speaking again.
"You got dat, Chief? Gunna do better nex'time?" 
I didn't think someone like yourself knew how to be condescending, but gosh-oh-golly, if you weren't condescending just then, I clearly don't know the meaning of the word. You smiled at me through your yellow teeth and handed over my receipt. I was working up a clever response to rock you back on your ass, but at the last moment I decided not to say it. I figured that a man who looks like this probably has enough problems as it is: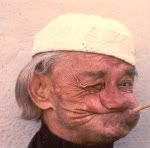 I left your store with a tank full of gas and a half gallon of milk, and no intention of ever going back. I'll be frequenting the major chain gas station just down the road a piece, instead of your run-down hole-in-the-wall that I shopped at solely to help support a local business. Our last encounter happened a couple of weeks ago, and I haven't been back to your place since. 

I suppose I should thank you for what you did. Now that I'm shopping at the Citgo, I'm paying less per gallon of gas, and their milk is cheaper, too! With all the money I'm saving, I can now afford to buy the second season of
House MD
on DVD.
Gratefully no longer your customer,
Michael