Last night, The Boss and I went to our local
Save A-Lot
to get some cheap groceries. If you've never been to a Save A-Lot, I'm sure you've been to places similar to it. They sell all the different types of products you see at a regular grocery store under knock-off names, but instead of having everything neatly lined up on the shelves, they stack the products inside the boxes they were shipped in. It isn't the most glamorous place to shop, but glamour goes out the window when you're looking to save a buck or two.
There were a few patrons in the store at the same time as us who struck me as odd. Like the guy who was wearing a heavily insulated snow suit despite the 70-degree temperature and the stifling humidity, who bought nothing but three cans of dog food after commenting about how "tasty" they looked. Or the Hispanic woman who spent the entire time on her cell phone, who was wearing a black bra under a thin white tank top that exposed a painful array of back acne (or bacne, if you will), and bought a surprisingly large amount of single-ply toilet paper.
As we shopped, I couldn't help but laugh at the knock-off names of some of the products. Fruity Diamonds, Honey Nut O-Rings, Frosted Mini Spooners... the list goes on. We also saw some products we haven't seen at the local supermarket before, like a 3-ounce can of Ham Spread (yes, you read that correctly) that had 770mg of sodium per half-tablespoon. I don't even want to imagine what that would do to one's blood pressure. Or to one's stomach and taste buds, for that matter.
We chuckled our way through the store, trying not to stare at the strange customers and make a big deal out of the oddly-named products. We grabbed the essential food items that we needed to get through the next week, and were en route to the checkout lanes with our assortment of grocery staples when I decided at the last moment to grab a package of cookies. It was then that I saw these: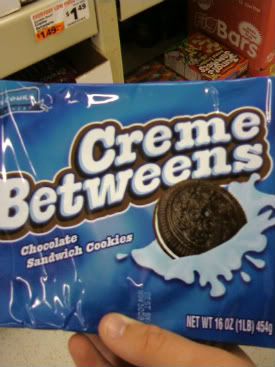 Really?
Do they have pubescent teenage boys running the marketing department at the cookie factory? There are just so many things that is wrong about such a name... So many things.
P.S. For those who are curious, they also sold Double Creme Betweens, and they are pretty damn tasty.