When I was a kid, probably at ten or eleven years old, I figured out what sex was.
It wasn't because my Dad sat me down and told me about the birds and the bees. It wasn't because I accidentally walked in on my parents in the throes of passion (which? THANK GOD). It wasn't because I found a stash of skin mags or because I
stumbled upon a porno
.
No. I learned how sex worked by helping my father wire up one of our televisions with cable.
Allow me to explain.
My Dad came home from work at the cable company one day with a bundle of cable wire and a handful of connectors. He said something to my mother about finally getting around to wiring up the television in their bedroom, and then turned to me and asked if I wanted to help. I readily agreed, despite knowing that when you're a ten-year-old kid there isn't much you can do to help with such a task other than hand him the tool he's requesting or hold the flashlight aimed at the project in question.
To cut out the boring play-by-play, let us fast forward a bit. The hole in the wall has been drilled, the cable line measured and cut, and there is not much else left to do other than clamp on the connectors and thread them together. My Dad picks up the crimping tool.
"Mike, hand me one of those female connectors, would'ya?" he asks.
I look at the pile of brass connectors, confused. "Which one?"
He points. "That one."
I pick up one of the connectors and hand it over. He crimps it onto the cable, grimacing as he pulls the pliers as tightly closed as he can.
"And now, can I have one of the male connectors?"
There was only one other type left in the pile, so I didn't have to ask for clarification.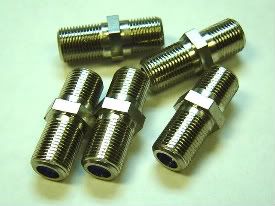 And suddenly, it sort of clicked in my head.
Male connectors... Female connectors. The male connector goes inside of the female connector. It all makes so much SENSE now!
I had, of course, learned what body parts boys have and what body parts girls have, but this experience of wiring up a television made all the puzzle pieces fall into place. It's a good thing I figured it out for myself, too, because my Dad never did sit me down for the "birds and bees" talk.
Come to think of it, maybe that was his way of subtly hinting at it.