I've had a bit of a rough week with my anxiety, so I apologize if my posting has been sub-par lately. The warmer weather tends to wreak havoc on my body, making worse all of the symptoms that I deal with on a day-to-day basis. It's not the end of the world by any means, it just means that I'm tapped out when it comes to brain power.
I did manage to find a couple of things I wanted to share with you all. The first is a pairing of advertisements that I found while kicking around Facebook the other day. Perhaps you've seen them; the ones that offer to make a cartoon version of yourself if you upload your picture. I took a screen shot, just in case you have no idea what I'm talking about: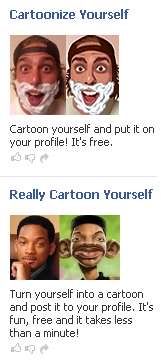 It's not the ads themselves that I find to be amusing. Like most of you I'm sure, I've always wondered what a cartoon caricature of myself would look like. Would I have Dumbo-ears? Would my chin be accentuated? Would my eyes be cast far apart or close together?
What I found to be the most amusing about these ads was the lame attempt at out-doing each other. As you can see, the first ad states that you can "Cartoonize Yourself". Fine, I've got no problems with that. Then, immediately below it, the second ad comes along with the brilliantly clever advertisting slogan, offering to all who view it to "Really Cartoon Yourself".
As if adding the word "really" into the mix made it seem that much more appealing. My guess is that the exec in charge of making the advertising campaign didn't give a shit. Or perhaps he "really" didn't give a shit.
The other thing I found was an interesting CAPTCHA word verification that I came across while commenting on a blog. Again, I have provided a screenshot:
Blinguin, eh? Is that like a penguin decked out in expensive jewelry? A gangsta-penguin, if you will? This may be an indication that I have too much time on my hands, but I came up with a sketch* of what I thought a blinguin would look like: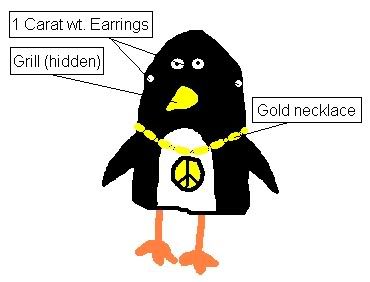 The only thing missing is this blinguins posse. Because everyone knows that any good blinguin has a posse.
That's all I've got for today. I hope everyone has a good weekend!
*I know, I know. I have some mad skillz with Microsoft Paint.