My brain is still fried from the Q&A session yesterday, so I don't have much mental stamina left in me for a normal post this weekend. Instead, I'm going to put up a picture of my niece, (which is I have been known to do in the past) in hopes of distracting you from the fact that there is nothing of any real value in todays post.
Short of cuteness, that is.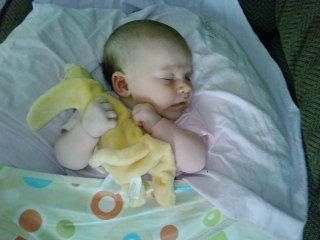 She turned two months old this week. Here she is, holding a stuffed animal that has been dubbed "Kittybear" that The Boss gave her. I've been told there was no posing involved in taking of this picture. She is too cute for her own good, but that cuteness fades quite fast when she fires up those lungs and starts wailing.
Enjoy the cuteness, and enjoy your weekend.