Earlier this week, The Boss and I got a new addition to our home.
Her name is Stella.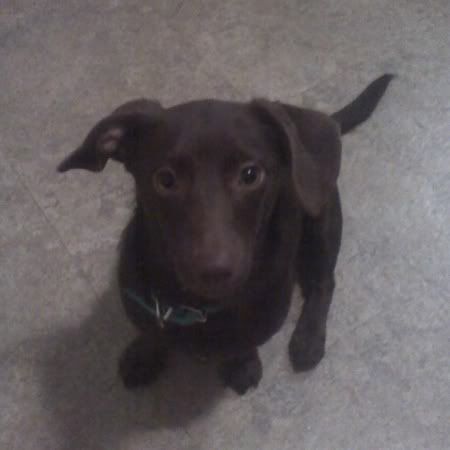 She is a six-month-old daschund-miniature pincher mix, and as you can see, she is too cute for her own good. We adopted her from the local animal humane society.
There is an interesting story behind her name. We were originally going to name her Lola, but we didn't want to upset
the real Lola
into thinking that we named a dog after her. It wasn't until I saw a recent post by Lola that I remembered that she has a dog named Stella, too. I had totally forgotten!
She is very hyper, but is quickly adapting to living with us, and has slept in bed with us for the past two nights. We've had a few accidents in the house, but we're starting to learn the signs she displays when she needs to go outside. She has already totally destroyed two of her toys, so until she gets older she'll be put in her crate whenever we have to leave the house. We will be enrolling her into obedience school soon to try to train her out of some of the bad habits she developed while in the shelter.
---
I've been putting some work into my
photography website
lately. I've changed how the pictures are displayed a bit, and I've added watermarks to the larger versions of the pictures for some added security. If you wouldn't mind, please check out the site and let me know if you have any problems with pictures loading or with site navigation.
Thanks!