Yesterday, I had the fortunate chance of meeting up with two of my blogging friends,
Jenn(ifer)
and
Amanda
. To the best of my knowledge, they are the only people in the state of Maine that publicly follow my blog. Thanks to my trusty friend Google Analytics, I know there are more of my fellow Mainers lurking around this site than just those two (de-lurk, I beg of you!), but I don't know anyone else specifically.
At any rate, this is the first time I have met up with people I've known only through blogging, and it was fun! The Boss and I met up with them at the local Starbucks here in town and chatted for a little while. I was a little worried about what exactly we'd have to talk about, seeing as I've already told all of my good stories here on this blog, but there wasn't an awkward moment at all. Even though I tend to be slightly different in person than I am online, I don't think I scared them off. If I did, they were nice enough to not run away screaming to their car and peel out of the parking lot when we parted ways.
I hope I get a chance to meet some of the other people I know through blogging sometime soon. I've got some vacation time coming up in September (hint, hint), so if anyone would be interested in meeting me and The Boss in a mutually agreeable place some Sunday next month, just send me an e-mail.
---
In other news, while doing some late night shopping at Wal-Mart this past weekend, I followed The Boss as she meandered towards the book section. As I normally do while waiting for her to finish browsing through the books, I made fun of the titles of the Harlequin romance books. Some of them are just begging to be made fun of. Especially this one: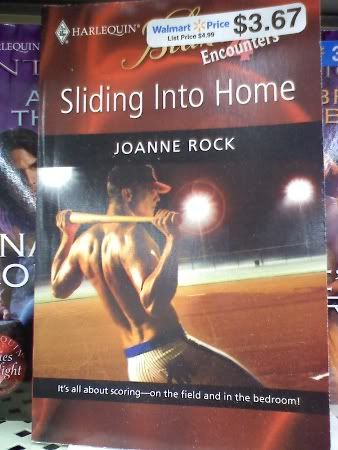 I was speechless, but it was the tag line that put me at a loss for words:
It's all about scoring - on the field and in the bedroom!
I wonder if, within the pages of this book, there is any mention of the lead male character, the muscular and shirtless wonder on the cover, stealing any bases. If so, I don't know how anyone would find that to be romantic. I mean, unless you find rape arousing, I think there are better ways to go about describing it.
Thinking about that innuendo got the ol' wheels turning. There are just so many other innuendos possible with this book theme. The game of baseball is ripe with terms that could be turned around into something sexual. Here are just a few that I could come up with:
Batting practice
Pitcher's mound
Center field
Dugout
Bullpen
Scoring position
Fastballs, Curve balls, Knuckle balls
Double or Triple play, Squeeze Play
Switch hitter
Strike zone
Ground ball
Grand Slam
So many jokes, so little time.
I was glad to see that romance authors are branching out a bit by writing stories about other types of men. It's not just about cowboys and rich, affluent bachelors and muscular, olive-skinned natives any more. Baseball players, construction workers, toll booth operators, janitors, the valet at the hotel, that guy with the ear hair at work, your urologist... They all have a chance to shine in the spotlight now.