I've had enough of the doom and gloom this week, what with the
allergy fiasco
and all, so I thought long and hard about what I could write about that would give this blog a little change of pace. Something that would get me back to my roots, a story of self deprecation or flatulence, an embarrassing anecdote from high school, another
awkward moment
from staying at my parents house...
anything
.
And then it came to me.
How could I have possibly forgotten to share this with you?
Earlier this past week, The Boss and I went to a triple-feature showing at a drive-in movie theater. They were showing "Inglorious Basterds", "District 9", and "Halloween II". (As an aside, I rate these movies as follows: 1) Disappointing, 2) Good, but left me wanting more, 3) Left before it started). It took an hour to get there, and we arrived at the theater a good 45 minutes early. We staked out the best spot in the lot, and trekked to the concession stand to get some food.
I had downed an energy drink (of potentially lethal proportions) on the drive over, so I signaled to The Boss that I had to visit the bathroom. I wasn't surprised to find out that she, too, had to make a little water, so we swung around to the back of the building to where the restrooms were. We parted ways at the supposedly "cute" and "country whimsical" signs that said "Does" for the female bathroom and "Bucks" for the men.
The interior of the men's bathroom was about what you'd expect for this no-frills establishment. It was lit by a single bare bulb hanging from the ceiling. There was one stall, the door to it hanging askew on two rusted spring hinges. In the corner stood a sink with no mirror above it, and I was surprised to see a bottle of soap. A paper towel dispenser hung on the wall nearby, but there was no urinal to be found. Instead, there was a piss-trough.
For the ladies, just in case you don't know what I'm taking about, a urinal trough is like a horizontal urinal/wall-mounted bathtub that suits two or more men standing shoulder-to-shoulder at one time. They look something like this: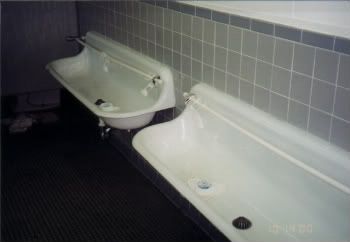 (As another aside, urinal troughs are very awkward to use if there is someone else using it at the same time. With a regular urinal, one can lean into it a bit, allowing the porcelain to sort of shield oneself from view if there are no partitions between the other urinals. With a trough, though, it's open season. You're standing shoulder-to-shoulder with the guy next to you, each of you holding your respective junk, staring intently at the wall in front of you, and pissing as fast as you can.)
The one inside the bathroom in question was much less... clean. And white.
A quick survey of the bathroom showed it was empty. I looked suspiciously at the one stall, but decided against it. In the shadows cast by the single light bulb, I saw there was dried up scraps of toilet paper on the toilet seat and on the floor. In the world of public men's bathrooms, finding previously-wet-and-then-dried toilet paper on any surface in a stall is as much of a sign that something terrible happened there not too long ago as crime scene tape is to a homicide. Having no other option, I sidled up to the trough and unbuckled.
My bladder was all but screaming at me at this point, so I was perhaps a little rushed. All 32 ounces of that energy drink wanted out more than thirty minutes ago, so I hastily unzipped and took aim. Once I was sure I wasn't going to piss on the open flaps of my shorts or my t-shirt, I widened my stance and released my bladder.
I was only allowed to experience the unique relief that is emptying a full bladder for but one second before I realized that my warm, guarana-laden urine was spraying back at me, heavily misting my clothing. In my haste to unzip, it appeared that I had forgotten to flip down the pull tab on the zipper of my fly. It acted much like a thumb placed over the open end of a garden hose, turning what should have been a simple stream of urine into a piss fountain.
I tried to stop pissing on myself, but as anyone knows, once you break the seal on a full bladder, getting it to stop mid-stream is like asking
Carrot Top
to not look so fucking scary: It's just not going to happen without a lot of fucking work.
By harnessing the power of the Force, I willed my bladder to stop pushing just long enough to flick the zipper pull out of the way. I released my bladder again and finished peeing, and as I shook off and zipped up, I began thinking about I would explain the dark, wet stain around my crotch. I washed my hands and emerged from the bathroom and faced The Boss.
"Damn sink faucets!" I said as I exited the bathroom. I shook excess water from my hands for dramatic effect. "Stupid thing came on a full blast."
The Boss laughed. "It looks like you pissed yourself!"
If only you knew.