Late last week, when The Boss and I were making our plans for the weekend, I mentioned that I wanted to set aside some time to carve a pumpkin. In all of the years that we've been together, we have never carved pumpkins for Halloween. It had been a number of years since I had carved a pumpkin, and I wanted to give it a try. So, when I first mentioned it to The Boss, she looked at me with a mixed expression of surprise and concern.

Having never expressed to her any interest in carving a pumpkin before would explain the surprise, but the concern most likely came from the fact that someone as clumsy as myself should probably avoid situations involving slippery substances and sharp knives.

Nevertheless, she agreed. We made a trip out to the store to pick up a couple of decent-looking pumpkins and some carving tools, and set up our workstation outside our apartment on a picnic table. Being the geek that you all know me to be, I did a little bit of research on pumpkin carving technique before I started. The idea I had in mind was more than your basic jack-o-lantern, and I didn't want to screw it up.

After assessing the size of her pumpkin, The Boss opted to paint her pumpkin instead of carving it. Not having any concrete plans, she was going to free-hand a design and just run with it. Me, on the other hand, I had my hand-drawn sketch and an array of tools, and I dug right in.

Before long I had the top cut off and the innards all scraped out. I sketched out my design carefully, and slowly began carving. It was tedious and time consuming, taking almost four hours from start to finish. The Boss finished her painting long before I was done, and sat there on the bench watching me work. I had to do some major improvising when I realized that part of my design just wasn't going to work, but in the end I was pretty satisfied.

I meant to take pictures of the entire process, but I got too involved in what I was doing and forgot. So, I've got the standard Before and After pictures. First, though, here is The Boss' pumpkin painting: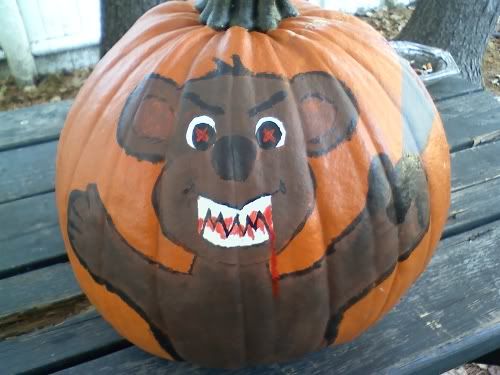 This thing scared the crap out of me in the early hours of the morning, when I stumbled into the kitchen for a drink of water. It's those eyes, man. They followed me around the room.

Here is the Before picture of the pumpkin I carved: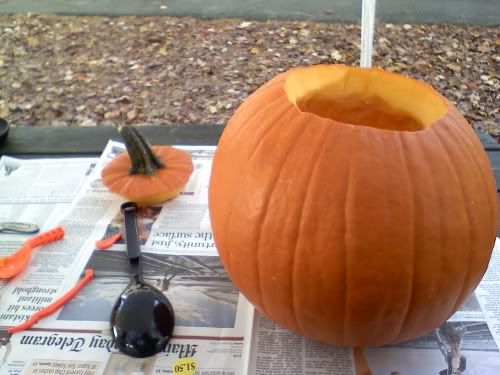 Here is the finished (un-lit) product: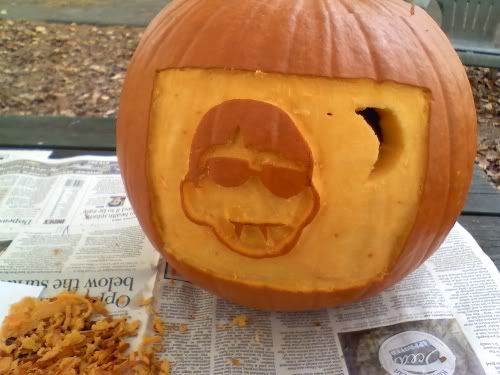 When it got dark enough, I took this picture:
It was a lot of work, but I'm pretty satisfied with the end result. It's not perfect, but I had a blast doing it. I think I bit off more than I could chew initially, having never done a carving using the
negative space
technique. It was much harder than I thought, but it worked out well enough once I got the hang of it. Lucky for me, I have a lot of patience.
And, to the surprise of both The Boss and myself, I didn't cut myself once.

---