"Alright, people. If you don't mind, I'd like to get this meeting underway."

Despite it's pinched, nasal quality, the voice belonging to the man in the badly tailored suit standing at the front of the conference room managed to get the attention of the room. The murmur of voices from the four other people in the room died down, and save for the rustling whisper of shifting papers, the room fell quiet. The man cleared his throat and self consciously adjusted the lapel of his suit.

"Okay. You all should know by now that we've got this new product launching in a few weeks. It's not technically a new product more than it is a revamped version of an older one, but either way we've been tasked with the responsibility of coming up with the package branding."

Stepping off to the side, Mr Bad Suit pulls a small remote out of his pocket and aims it at a projector on the long oval conference table. It jumps to life with a click, casting an image of the product on the far wall of the room.

"We've been instructed to come up with a short slogan, something that advises the consumer of the benefits of this newer product over the older one. It has to convince the consumer to purchase our product over our competitors, and it has to fit within our corporate branding style."

Mr Bad Suit paused for a moment, turning to scan the faces of the people in the room. "Any thoughts?"

The breathy whir of the projector's cooling fan is the only sound heard in the room.

"No one?" Mr Bad Suit asks. "Okay, then. I know it's early, and yeah, it's Monday, but we've only got until this afternoon to come up with something. It's got to be approved by the marketing execs by tomorrow. The final package design goes out Wednesday morning to the company that makes the packaging."

He points the remote at the projector again, and it clicks off.

"Get some coffee, and get to work."

---

The final result: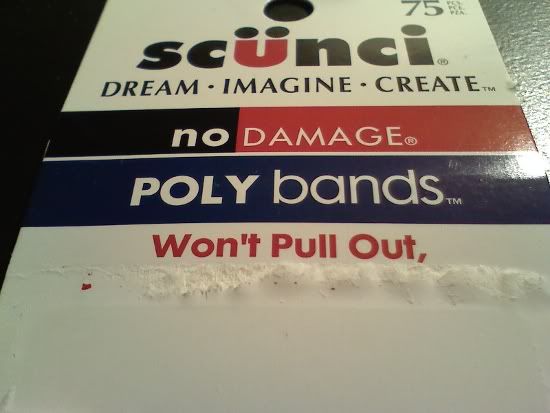 I have to wonder how many slogans were scrapped before they decided on this one. I don't have a lot of experience in advertising or product branding, but I think that, if given enough time, I could come up with something better than "Won't Pull Out".

Why they'd want to have branding on their product that sounds like a phrase used by an irresponsible frat boy is beyond me.