After a few days of hemming and hawing and contemplation, The Boss has finally chosen the winners of the 2nd Annual
Fall Season Give Away
. I know that some of you are pretty excited to see the results, but if you haven't seen the submissions for this year's contest,
click here
to take a look.
Without any further ado, here are this year's winners.

For Photography Category, the winner is
Sandy
, with this picture of this old cultivator in her yard:
Here is what she had to say about it:

The photo is taken in one of my rock gardens. The plant is a cotoneaster. In the fall I love the red berries because it's some of the last color in the garden. It is sitting beside an antique cultivator that came from my husband's grandfather's farm in Warren, RI. Paul actually remembers walking behind the cultivator as a little boy with his grandfather behind him as the cultivator was being pulled by one of their horses. I love the color of the lichen as a contrast to the red berries.

The runner-up in this category is
Cheryl
, with this photo of her granddaughter:
Here is what she had to say about it:

It epitomizes to me the excitement and fun of the fall and the cuteness of little girls. The farm had a goat pen and we petted the goats just before taking this picture. The colors of the pumpkins, the grass and her jacket are so vivid (despite being sort of an overcast day) and she is just such a cute subject (yes, I am unabashedly biased) and it all worked. I had finally been able to get her hair into pigtails for the first time and she just has the look of innocence and childhood in her eyes. For me, it was a once-in-a-lifetime shot.

For the Pumpkin Carving category, the winner is Amy with her awesome Badass Geek-themed pumpkin: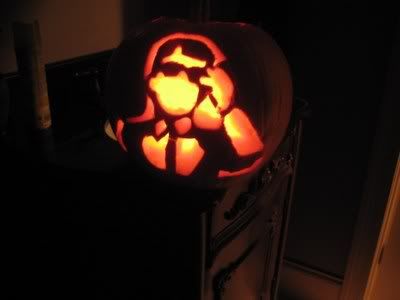 The runner up in this category is Natalie, with this great piece:

Congratulations!

Sandy and Amy, feel free to browse the galleries on my photo site and pick out an 8x10 print. Cheryl and Natalie, please do the same to pick out your 5x7 print. Please e-mail me your selections, and I'll get them out to you soon. Don't forget that you can trade your prize for some design work, so let me know if you'd like to do that.

Congratulations again, and thank you to all who entered for being a part!