It's not often I have a guest post around these parts, but today I've got a guest post by Lauren Leto. If you don't recognize her name, perhaps you'll recognize the site that she had a major part in building:
Texts From Last Night
. She's compiled a list of the geekiest texts found on the site just for me.
If you've never heard of TFLN, I seriously suggest you check it out. It's a hilarious site that lists text messages sent in from people around the country (and world) about, usually pertaining to their alcohol or sex-fueled nights of debauchery. It is pure genius, and I'm honored to host Lauren's guest post today.

(Just so you know, the numbers in parenthesis before the text is the area code from where the text was sent. See if there are any from your state!)

---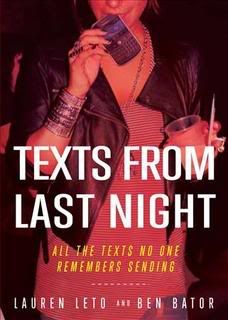 The Geekiest TFLN Texts

(compiled especially for The Badass Geek)

by Lauren Leto, moderator at
TextsFromLastNight.com
,
BookNerding.com
and
MomsMsgs.com
)
(703): She asked the class if starwars was based on a true story...

(704): I dumped him because he's never seen star wars. I'm certain I did the right thing.

(773): i just spent an hour trying to convince my blind date that star wars is better than star trek. help me

(713): All the good ones are taken. All that's left is the Harry Potter geek or the asshole in the corner. I think I'll settle for Harry Potter.

(408): the star wars geek is hitting on me, and is talking about his lightsaber. need back up NOW

(314): why was he too nerdy?

(919): he was a tetris block for halloween

(520): i nerd-gasmd. plain and simple.

(717): he just asked me if he could show me what he wanted to do to me using his action figures. where do i find these freaks?

(631): But you know it's love when you find brass knuckles in the same box he keeps his Naruto action figures.

(585): So guess who had sex in a Ghostbusters sleeping bag.

(360): I wish i could make my toaster dance like they do in the second ghostbusters. But i dont have ectoplasmic goo. Or a toaster.

(614): If you want her to think you're a true humanitarian, you may want to stop referring to Hands Across America as "the Ghostbusters 2 of fund raisers."

---

The TFLN site just got book deal, and you can pre-order it by
clicking here
. Feel free to check out Lauren's other sites (as linked above), too. The Moms Msgs site is similar to TFLN, and is based off of funny or awkward messages sent via text/e-mail/Facebook/etc. from Moms and Dads across the country.
Thanks for the guest post, Lauren!

Happy Monday, folks.