Ages upon ages ago (truth be told, it was just over a year ago), I got this idea to start a short-fiction project. I called it Short Story Thursdays, and my plan was to post a new 500-word section of a story once a month on a Thursday. If you look through the archives, you'll find the six or seven posts that I wrote for it. I made a separate blog for it, but as time went on, the story (and it's author, to be honest) lost it's steam. The last section of the story was posted way back in April, and I had all but forgotten about it until last month.

When I was about halfway through the
NaNoWriMo
challenge last month, I thought about resuming work on the project. I had enough on my plate with trying to keep up with the word count for the NaNoWriMo challenge, so I kept the idea on the back burner of my mind. As the month of November wound to an end, it hit me: Why not open up the project to others to contribute to?
The project now is as it was when I started it: write a fictional story using no more than 500 words. The only difference is that I'm opening it up to anyone who wants to contribute. It's a challenge, there is no doubt about that, but it is a useful tool. This project is more for others than it is for me (though I will be writing for the site), and I'm only mentioning it here to help try to spread the word about it.

I've got a couple of different authors already up on the site, and there is some pretty great stuff. There are more stories due to be posted as the month progresses. If you are at all interested in writing fiction, I strongly urge you to check out the site and consider participating. If you know of anyone who likes to write fiction, too, well, send 'em on over.

---

I'll leave you for the weekend with this, yet another version of the "Cartoonize Yourself" ads I found recently: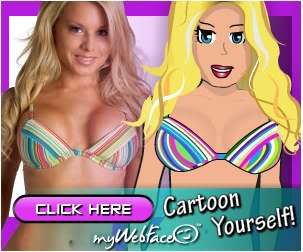 Out of all the various ads I've seen based upon making a cartoon out of oneself, this is by far my favorite version one yet. I'll let you guess as to why (HINT: There are two
big
reasons). You can see the other "Cartoonize Yourself" ads I've written about
here
,
here
, and
here
.
Have a good weekend, folks.