The Boss and I had some time to kill the other day, so we kicked around the CVS here in town. We had about twenty minutes to waste, and what better way to spend it than by looking at cheap Christmas gifts, shampoo, and analgesics?

After perusing the seasonal section filled with things like jumbo-sized universal remotes, fuzzy foot massagers, musical snow globes, electric shavers, perfume or cologne gift boxes, photo frames that let you record a message, and pens with whimsical Christmas characters on top, we made our way over to the aisle the housed all the wine and beer.

While The Boss looked over the wine selection with interest, I poked fun at the wide selection of boxed wines they had. I previously had no idea there was that much demand for variety in the world of boxed wine, but I know better now.

Just past the wine was the beer. They had your standard fare of bottled and canned beer, and not being much of a beer drinker, I wasn't really all that interested in what they had. To pass the time while The Boss looked over the wine, I started counting how many different brands of beer they carried. I had counted up to eight brands when this caught my eye:

How subtle. Ping-pong balls in the same aisle as the beer. How very convenient for the
Beirut
players in the area. There was another display rack a little further down the aisle:
We don't exactly live in the sticks anymore, and there is much more to do around here than there was where we used to live. But, apparently there are enough people around here who feel there is nothing else to do but play beer pong.


A few days later, The Boss and I stopped at a grocery store to pick up a few things. As we passed the refrigerated beer section, something caught my eye. I doubled back and saw this: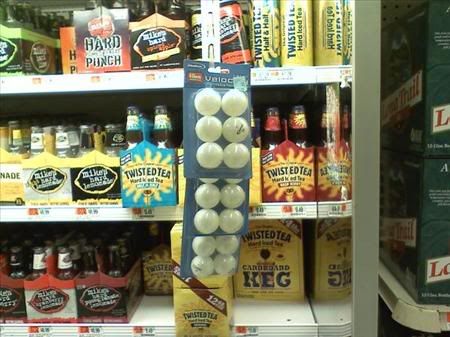 This town really is obsessed with Beer Pong. How did I not know this before? I grew up here. At least I know where to go to get supplies for my next tournament.
Have a good weekend, folks. I know I'm going to (*wink, wink*).