The Boss and I were at our second home the other day (the bookstore), and as is customary, we both went our separate ways. She went to what I call the Bloodsucker Section, while I went to see if there was anything new in the horror/fiction section. I exhausted the sections that I find interesting within about ten minutes, and then went to track down The Boss to see what she was up to.
I found her in the young adult area with a couple of different books in her hands, looking at the latest in a certain series. I don't find anything in the young adult section remotely interesting, but that's probably because I'm not a young adult. I let my eyes wander aimlessly around the various titles, and finally I found something that held my attention.
The Boss turned around to look at me when she heard me chuckle to myself. "What?"
I pointed. "Look. Woody's Big Dance."
The Boss sighed and rolled her eyes, which is a very common reaction that I get. Perhaps I'm not as mature as I should be all the time, but so what? I have a good time.
"Want me to show you Woody's Big Dance when we get home?" I asked, waggling my eyebrows.
"Uh, no." She turned her back, shaking her head.
Right above the shelf that held that particular toy was this lovely gem: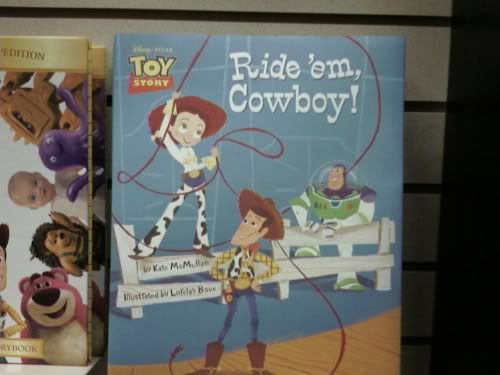 Now, I know that these are geared towards kids and are meant to be innocent and cute... but come on. Seriously. The phrase "Ride 'em Cowboy!" some rope, and some dude watching from the side? That could mean something entirely different to any slightly immature and dirty-minded individual (raise your hand if you fit that description).
Coming from Disney, the folks who purportedly gave a Priest in The Little Mermaid
a boner
, it doesn't surprise me all that much. The marketing exec's probably got a good chuckle out of it themselves.
Happy Monday, folks.
P.S. Today is Memorial Day. Please take a moment to remember those who have died serving our country.