I was brushing my teeth in the bathroom over the weekend, and after I got bored of flaring my nostrils and making weird facial expressions to myself in the mirror, I started looking aimlessly around the bathroom and thinking to myself. Yeah, the trash needs to be emptied... I thought. I wonder if The Boss knows how many Q-Tips have not actually made it into the trashcan and rolled behind the toilet instead... Why do they call them sanitary napkins? Even though they might be super absorbent and leak proof, I wouldn't want wipe my face with them... That clump of hair in the shower looks like a Beanie Baby.
Pretty standard thoughts if you're a guy like me.
After brushing my teeth and rinsing, I was drying my hands when my roving eyes caught on the labeling on the package of toilet paper sitting on the shelf above the toilet. Take a look: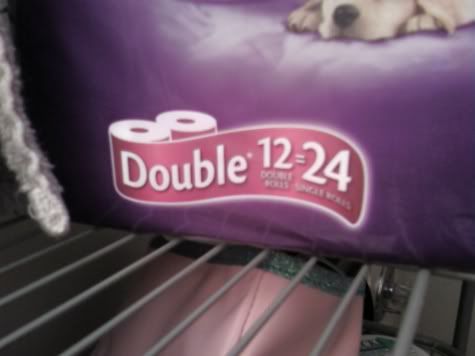 Whoa. Wait just a minute. You mean to tell me that twelve double rolls equals twenty-four single rolls?
Thank you so much for clearing that up, Kleenex. Thank you for enlightening me and for making me feel like I'm getting such a good deal. Thank you for explaining what the concept of 'double' is. I wouldn't have been able to figure that out myself, considering I flunked out of elementary math when I was a kid. I mean, I only have ten fingers. I wouldn't be able to count that high.
Amazing.
Happy Monday, folks.