Has anyone here ever placed a classified ad in a local newspaper? If so, you know that they can be a bit pricey depending upon how much you want to say and how long you want your ad to run. That's why I am assuming that the following full-page classified ad I discovered a few weeks ago is more than likely an awesome practical joke from someone with money to burn rather than a last ditch effort from a seriously distraught pet owner: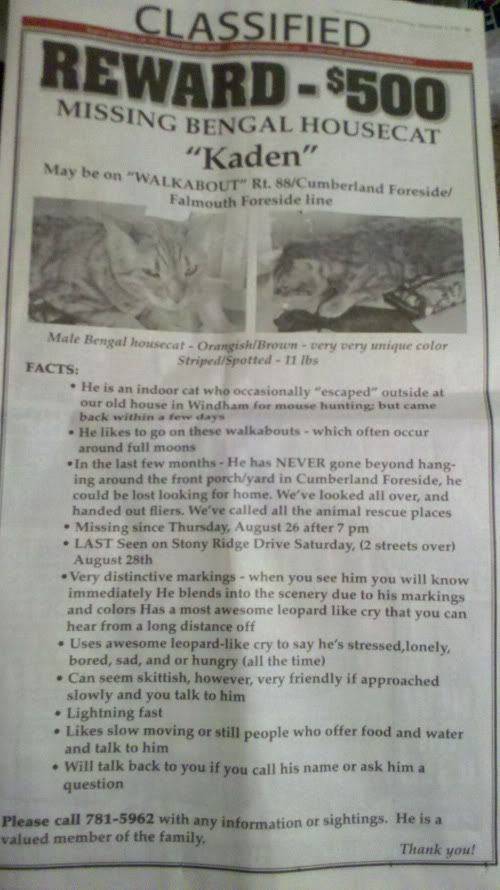 If you are anything like me, you would be a little stunned upon seeing this ad. I mean, seriously. A full-page classified ad that ran on a Saturday for a missing cat? That had to have cost some serious cash, considering that a five-line classified ad in this particular newspaper can set you back nearly $100. On top of that, having it run on a Saturday during the prime season for yard sales and other events. I tried calling the newspaper to find out exactly what it would have cost to run the ad, but no one returned my calls.
Short of the fact that these people were offering a $500 reward for a frigging house cat that had been missing for about a week, I just want to touch on a few things that make this ad awesome:
"He likes to go on these walkabouts - which often occur around full moons."
First off: walkabouts? What exactly does that even mean, and what does it mean when referring to a cat? Additionally, the fact that the owners of this animal happen to know its proclivity for an evening stroll surrounding the schedule of lunar activity (given that this is a real ad and not an elaborate joke) is a bit creepy. It also could suggest that little Kaden has supernatural tendencies, which could bring up a whole host of other concerns.
"When you see him you will know immediately. He blends into the scenery due to his markings and colors."
The assumption that a complete stranger would recognize a random cat from two grainy pictures in a newspaper is just hilarious. Saying that the cat blends into the scenery because of its markings kind of contradicts the preceding statement, but considering the ad as a whole, it's easy to look past that.
"Has a most awesome leopard-like cry that you can hear from a long distance off. Uses awesome leopard-like cry to say he's stressed, lonely, bored, sad, and/or hungry (all the time)."
I highly doubt that a domestic house cat would have a cry that rivals a leopard's. I've owned a few vocal cats in my time, but none of them ever came close to sounding like a leopard. Furthermore, if I heard something that sounded like a leopard in rural Maine where the owners of this cat say they live, I would first shit my pants and then call Animal Control. Also, the thought that a cat would ever be stressed is just absurd.
"Can seem skittish, however very friendly if approached slowly and you talk to him. Lightning fast. Likes slow moving or still people who offer food and water and talk to him."
Short of the "lightning fast" part, these particular statements could describe me most days.
When I first saw this advertisement, I almost called the number on the bottom of the page to see if this was real or not. We've all seen ads for missing pets before, but this one is the gold medal winner in my book. If this was indeed a real ad and not a joke, I seriously hope their investment worked the cat turned up alive and unharmed.
I mean, who among us wouldn't like to escape for a few days to go mouse hunting? Sounds refreshing to me.
Happy Monday, folks.