I've written about something this in the past, but this is too good not to share.
On my drive into work last week, I drove past this house that is having some work done to it. An addition or remodel, something like that. I honestly haven't paid enough attention to the house itself to notice. What caught my attention was the sign that the contractor doing the work on the house placed on the lawn near the road, advertising for his business.
I don't know how many times I had driven past it, but something on it caught my eye the last time I drove past it where I reminded myself to pay attention to it this time. I let up on the gas a bit so I could read it. Here is my (poorly rendered) mock-up of what it looked like:
Pretty innocuous, right? Yeah. The thing is that I thought it said something different. Here is what I thought it said originally: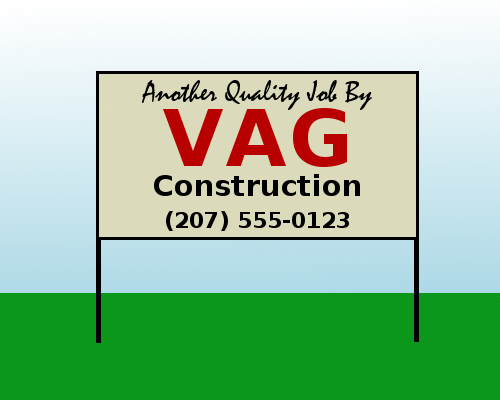 VAG construction, eh? I mean, I guess I always knew that there were contractors who serviced vaginas, especially in the comfort of your own home, but I didn't think we had gotten to a point where they could advertise for them. We're a progressive country at times, sure, but not that progressive.
Have a good weekend, everyone.