Originally, I was going to wait until this Friday to announce the winner of my
Fall Season Give Away
. That has since changed because for one reason or another, participation was pretty low. I'm a bit puzzled by that fact, but I'm going to chalk it up to busy lives and general lack of time to be able to participate. So, without any further ado, let me announce the winner (and the sole participant):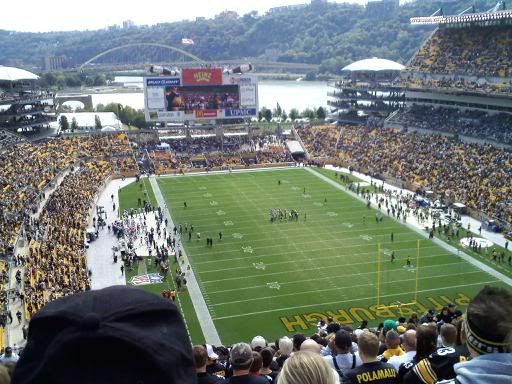 Join me in congratulating Megan! Here's what she had to say about why she chose this particular picture to best summarize her opinion of the Fall season. I have to say that while I don't necessarily agree with her choice of team, I agree with her reasoning:
Fall = football season. At least in my house. And no matter what team you cheer for, you have to admit that Heinz Field has a hell of a view.
Nothing says Fall like sleeping in on a lazy Sunday, only to roll out of bed, slip on your favorite jersey, and prepare to fight off all those who would challenge your rights to the buffalo wing dip. And chili. And hot wings. And beer. And, well, fall is really when you fatten up in preparation for the long winter ahead (or an excuse to stuff your facehole full of yummy tasting food).
Amen to that.
So, congrats again to Megan! Megan, to claim your prize of $55.00 to any of the CSNStores websites, just shoot me an e-mail. I'll have my contact send you the gift certificate electronically.
As for the rest of you with good intentions, well, there's always next year.
---
I don't talk often about sports here, but I was at the Patriots game this past weekend against the Vikings. It was a great game, with lots of freaks and geeks dressed up for Halloween. It was great to see the Vikings lose, to see Randy Moss only get a single catch, and to see Brett Favre get carted off the field bleeding from his face. I'm not normally so mean towards people, but I've held a grudge against Favre ever since 1996.
The most memorable part of the game? Having the old woman sitting behind me punching me in the back to get me to sit down. I was on my feet to watch a play developing near the end zone, and she couldn't see... yet clearly she missed the giant HD display over at the other end zone. She must have punched me in the kidneys a half dozen times before I turned around and told her to quit it. Well, to be honest, I told her to "fucking stop punching me in the kidneys" and to "stand up or watch the fucking Jumbotron" if she wanted to see what was happening.
Usually I respect my elders, but when they start throwing kidney shots, all that goes out the window.
*
All together now: That's what she said.