Sometimes, when I'm sitting at my desk trying to write and the words just aren't coming, I start looking around my office and try to find inspiration in something. It's a wonder I haven't written exhaustively about the migrating habits of clutter and the calming qualities of proper organization by now, but sometimes it's enough to trigger a thought and then *poof*, instant idea.
On the days where inspiration is not found by looking at piles and stacks of clutter, my eyes inevitably make their way back to my computer, and my lamp that has sat resolute on the left corner of my desk for many years. It's a halogen lamp, and has a peculiar rocker switch that has intrigued me ever since I bought it. I realize how weird that sounds, but take a look at it: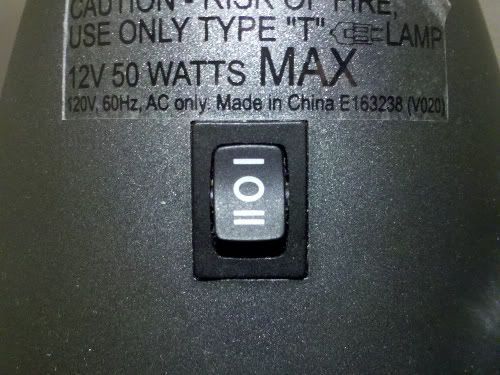 Looks kind of like a face, doesn't it? An emoticon-type face? I don't look at it and expect this random pattern of ink on a plastic switch that looks like a face to provide me with ideas for things to write about. That would be crazy. But sometimes, after looking at it and thinking for the millionth time how much it looks like one of the Easter Island heads, an idea comes to me.
It's all coincidental, but whatever works. What do
you
do when inspiration is lacking?
Have a good weekend, everyone.