Today is Christmas Eve.
Say it with me now: Thank God.
Don't get me wrong: I'm no Scrooge. It just seems like there has been too many Deck The Halls and Silent Nights and God Rest Ye Merry Gentlemen for my liking this year. And the Christmas parties! Oh, there have been way too many Christmas parties. I lost count of exactly how many have been held at work, but my waistline is keeping tabs I'm sure.
This is about the time of year that I realize I forgot to send out the Christmas cards. I don't think I've ever remembered to get them out in the mail on time. In fact, there's been a few times where we didn't send them out at all, late or not. They just went into the trash, addressed and signed but missing stamps. It's the thought that counts, right? I'll just think real hard and send my Christmastime well wishes telepathically instead.
For those who have procrastinated like me, I do have a solution. Send an e-mail to the people you'd normally send a card to, with a cheery, Christmas-themed graphic in the body of the message. For example:
Simple enough, right? You've got snow, you've got a reindeer, and you've got a festively colored Christmas sentiment. Brief and to the point. Let the rest of your e-mail do the talking.
If you're sending an e-mail message to someone you don't really care for or someone you think would appreciate a bit of off-color language, you could always send them something like this: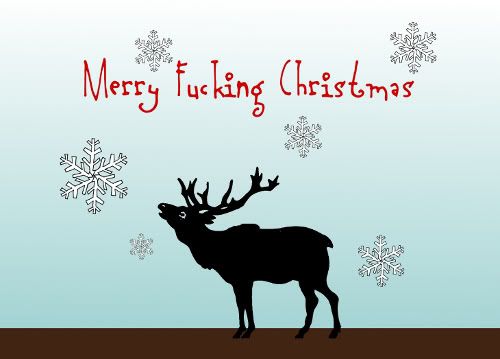 What else really needs to be said?
In all seriousness, from my family to yours, I do hope you all have a safe and happy holiday and a Merry (Fucking) Christmas. If you don't celebrate Christmas, well, I hope your Saturday is safe and happy, too.
Have a good weekend, everyone.