Earlier this week, my good (and hilariously insightful) blogging friend Johnny Virgil
put up a post
about his suggestions to me via Twitter about what I should do for my alloted one framed picture for my desk at work. We've recently moved into a brand new building and the powers that be are limiting how us cubicle monkeys are allowed to decorate our padded walls. Given the freedom to have one framed picture on our desk, I was faced with a difficult decision not all that different from the time that Indiana Jones had to choose the Cup of Christ from the various options of drinkware protected by the Last Knight. I had to choose wisely.
Johnny Virgil suggested I get a picture of William Shatner as Captain Kirk for my desk. After telling him that I am more of a Star Wars fan, he kindly suggested a picture of a reclining Chewbacca knowing that the preferred choice of Slave Leia wouldn't be work-appropriate. After giving it a few days and wracking my brain for other ideas, and in the end not having thought of anything else better to display on my desk, I decided to just go for it.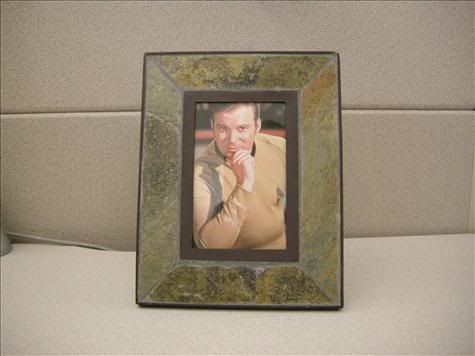 Even though I'm not a big fan of Star Trek, having the cool gaze of JT on me all day was pretty relaxing. The next day, though, I switched it up.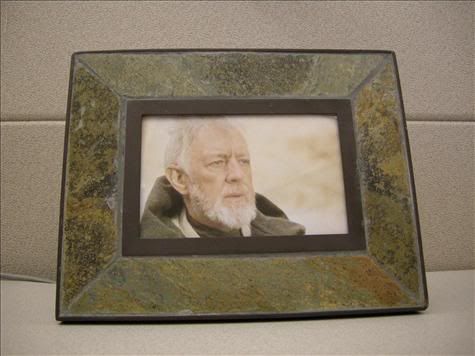 After all, what's better than a wise Jedi Knight (albeit the one responsible for the failure in training of the individual who would become Darth Vader) to suggest that I use the Force when taking calls?
The reaction of my co-workers is a bit mixed. Most people think it's hilarious that I chose to frame a picture of Captain Kirk or Obi-Wan Kenobi instead of my wife, while others just don't seem to get it. Everything at work these days is serious and it often feels like there is no opportunity to smile or laugh about things. If I can be the guy who can introduce a bit of laughter to their day, then so be it. Better than them laughing at me directly.
I think I'm going to continue this trend. I've got a new picture lined up to display on my desk today (Mr T) and for my shift on Saturday (Chuck Norris). I'm not sure how long the interest in this will last, or how long I'll get away with it before management catches on, but we'll see.
And no, before you ask, in my conversations with
Johnny Virgil
(whom you should seriously check out if you haven't already), the option of putting a picture of The Boss on my desk wasn't brought up. And yes, she's okay with that.
Have a good weekend, everyone.