Well. What a pleasant surprise!
I didn't expect nearly as many entries as I received on the post I had up on Wednesday. I thought I might get a handful, probably six or seven, but not 43. Forty-three! It was great seeing the comments tumble in throughout the day, and seeing how widely the suggestions differed. It was awesome to see so much participation in this, too.
After collecting and organizing all the entries I received by comments (and two via Twitter), I gave each entry a number. Using
Random.org
as promised, the first entry I'll be writing about is lucky number twenty-nine: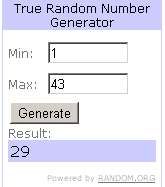 The brilliant mind behind entry number 29 is none other than
Nyx
! Congrats! Here is her entry:
Title: Lampshade Silhouettes
Name: Agnes Pennyworth
Location: Home
Emotion: Terror
Object: Teacup
I'm looking forward to putting this story together. The wheels are already turning in my mind. There are so many other great entries, so for the rest of you who weren't picked, don't feel left out. I do plan on writing a short story for each of your submissions, and I'll let you know about the ones I complete as I manage them.
Thanks again, everyone, for your participation in this project. I can see this turning into something pretty big, but one thing is for sure... I have my work cut out for me.
Have a good weekend, everyone.