What a crazy week this has been. To give the full story justice, let me recap it all from the beginning.
On Monday, we were told by her doctor to call into Labor and Delivery to make sure they had space for us to begin the induction process. The hospital beat us to the punch, calling The Boss' phone at 6:30 AM to let her know that they were full, and to please call around 11:00 AM to see about it then. At noontime when she called, they were still full. All of our momentum had stalled and emotions were running high, and when we finally got the call at 2:30 PM to come in, we grabbed our already packed bags and were on our way.
The Boss' doctor came in after we were fully admitted and inserted the first round of induction medication. We were told to wait for twelve hours, and depending upon how much progress was made, they'd try something else. The contractions she was having worsened, but overall she did very well that first night. By the next morning, she was not dilated at all, so they started a new medication intravenously.
After 24 hours of being at L&D, there was still no progress. The doctor tried another round of the first medication, to see if that'd kick things into gear. The Boss endured another day of steady contractions, but this time the pain worsened. Because of her fall the week before the nurses didn't want her out of bed, and she was limited to what positions she could lay in due to the monitors on her belly, so I did what I could to make her as comfortable as possible.
We woke up Wednesday morning to find out that she was dilated two centimeters. This was encouraging to both us and the medical staff, so they ramped up the dose of the IV medication to the maximum allowed over the span of a couple hours, where as the day before it took them over eight hours to get to that dose size. Her body was contracting like crazy, but after six hours she was not any more dilated.
At this point she had been laboring for over 48 hours, and her doctor started talking about doing a c-section. This had been something The Boss had stated she didn't want to do, but after talking it over, she ultimately decided to go for it. She was exhausted, and after we talked about it in length, she agreed that the c-section was the best idea. From the moment we told the nurse the decision to the moment she was wheeled into the operating room, less than thirty minutes passed.
Adrenaline surged and emotions ran high. I made some quick phone calls to family to let them know what was happening. The anesthesiologist came in and went through the disclosures and warnings about the spinal block, and a nurse came in to inject through the IV line some medication for nausea. Another nurse entered the room and handed me a sterile gown, cloth covers for my shoes, a hair net thing, and a face mask. I changed into them, and before I really had a chance to truly process what was about to happen, they led us down the hall to the operating room.
I waited in an inner vestibule as they prepped The Boss and gave her the spinal block. I stood there for about ten minutes, my heart racing and wanting nothing but to be with my wife. It took a lot of deep breathing, but I was surprisingly calm when the called me into the room. I was ushered to a chair behind the cloth curtain they had draped up around her, and sat right next to The Boss when things began.
It was only a few minutes until we heard Baby Badass' first cry. So many emotions surged through me, it was almost dizzying. Relief that the baby was finally here, love for my wife and my new daughter (who I hadn't even seen yet), and a multitude of new emotions I've yet to be able to quantify. I saw Baby Badass for the first time after she had been cleaned up, being examined by a pediatrician just minutes after she had been born.
Introducing, for the first time on the interwebs, Baby Badass! Born at 3:59pm EST on April 13th, weighing in at 8 pounds 5 ounces, 21 inches long, and with a full head of hair.
In the end, the c-section was a wise choice. The doctor who performed the procedure said that the umbilical cord was wrapped around her neck two times, and that was likely why labor hadn't progressed. The baby couldn't drop inside the uterus because of how the cord was around her neck. We were later told that that happens fairly often and they can still deliver naturally, but in the heat of the moment, it was pretty scary to hear.
After The Boss was all put back together and Baby Badass had been weighed and measured and examined, so began the onslaught of excited and weepy family. Everyone got a chance to hold her, but the real magic happened once everyone left, and it was just The Boss, Baby Badass, and I. So many inexpressible emotions, going way beyond love and happiness and anything else I had thought I'd feel.
It has been a very long week, my friends, but I am the happiest I've been in a long time.
I have a daughter, beautiful and perfect.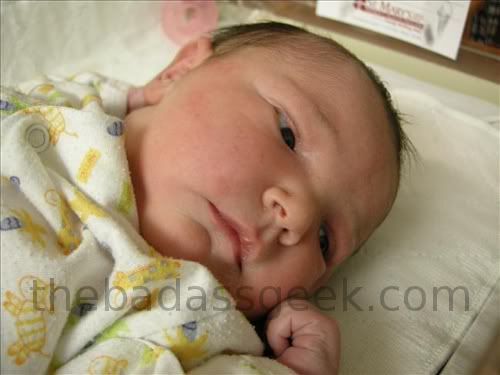 I'm a father.
---
Have a good weekend, everyone.
P.S. The Boss and I talked about it heavily, and we've decided for now to not share the name we've picked for her. I'm sure a lot of you would really like to know, but until we've talked some about it, it'll just be between family.