Just about three years ago now, something awesome happened. I wrote about it here when it
actually happened
, but here's a refresher.
I was sitting at my desk, working, and my computer chimed to tell me that I had a new e-mail. I ignored it for a little while, assuming that it was probably just junk mail or some unimportant newsletter. As it turned out, I was wrong.
It was an e-mail from the head of the set production department for Warner Brothers Studios for an upcoming new TV show on FOX called "Fringe".
My heart racing, I read on to find that they were researching pieces of art or photography to use in a particular set, and had stumbled across my photography website. They really liked a few of my prints, and since the location of where the pictures were taken fit within the back-story of their lead character, then wanted to purchase rights to use them on the show.
I couldn't believe it. Little old me, posting my pictures up on the interwebs where I had thought they went unnoticed, had caught the attention of a major TV production company. It felt almost too good to be true.
We exchanged a few e-mails back and forth throughout that morning. The woman behind the set design offered up a few details about her and the production company so I could feel more assured that this was real. We agreed on the terms in which they could use my pictures, they picked which three they wanted to use, and we agreed on a price. From there, everything happened fast.
They faxed up to me a series of documents that I had to sign. Independent contractor forms, a legal document that stated I gave them permission to use my prints in any way they saw fit for the purpose of the show, and a few other release forms. There was a deadline to finish the set that was less than a week away, so they stipulated that, as part of the agreement, I had to furnish the actual prints and express mail them down to New York to the production studio. I got them printed the next day, called them up to confirm everything, and they sent me a check over-night.
I waited impatiently for that check to arrive. I sat at the window that faced the front of our apartment for hours, and then finally the FedEx truck arrived. He handed over a cardboard envelope that I hastily signed for, and ran back inside to tear it open. Inside was what looked like your standard pay-stub, complete with the Warner Brothers logo on it.
To make a long story less long, I express mailed the prints down to NYC and waited to hear that they got them. I got a quick e-mail saying they did, and that was it. The whirlwind was over. All I could do now was wait.
I made it a point to watch all the episodes of Fringe that I could when they aired. My whole family watched the show, too, to see if we could catch a glimpse of my pictures somewhere. There was a couple of times where we weren't sure if we saw them, and ultimately I resigned myself to wait until it came out on DVD to really see if they were used.
The first season has been out on DVD for almost two years now, and I just recently bought it. I watched the first couple of episodes, and found nothing. I was starting to feel a dejected, but then I saw something.
Specifically, this: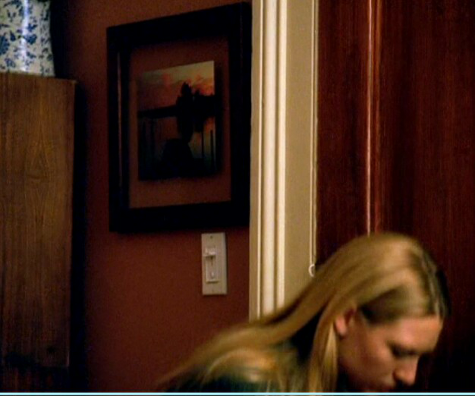 That's right folks. That picture right there? That's mine.
I took the picture, I printed it, I held it in my hands and mailed it myself to the great NYC, and there it is.
Here's the original picture as proof: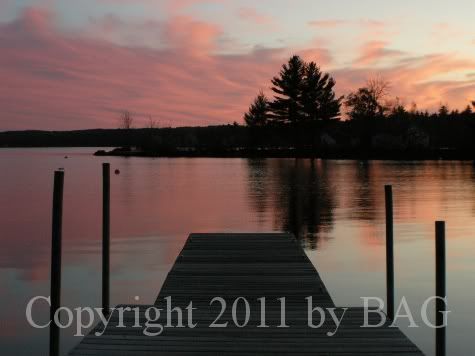 I don't often talk about this whole experience because I don't want to brag, but I am so fucking proud of it. I have no idea if that's the only one they ended up using, or if they've used them more since the first season. I've got to get the other seasons now on DVD so I can find out. The fourth season starts up this September, so who knows what will happen.
This just goes to show that awesome things can happen when you least expect it.
Happy Monday, folks.
P.S. For those who want to see it for themselves, check out season one, episode six, titled "
The Cure
". Look in the last minute or so before the credits roll, where Olivia Dunham has just entered her apartment.