I've finally done it.
After much thought, effort, and revision, I've finally put together a compilation of short stories and self-published it on Amazon. For those of you with Kindles, it's available right now in the Kindle shop.
Click here
to check it out, or click on the flashy new link on the sidebar to your right.
My book is called "Roadside Forgotten", and it's a compilation of some of the more recent short stories I've shared here and over at
Fiction Five Hundred
. I'm excited and nervous to have something out in the wild like this, but I've got tons of support from family, and tons of support from my readers here. I'm anxious to see how everything goes, and to see the response I get.
If you don't have a Kindle and would still like to check it out, Amazon offers free Kindle apps for those with an iPhone, iPad, Android, or Blackberry, or even your PC or Mac computer. I'm not asking you to rush out and buy my book, but I think you'd all enjoy it. If you do happen to purchase the book, please take the time to leave your honest opinions on a review over at Amazon, and let me know if you come across any typos or formatting problems.
And finally, for those of you who like to judge a book by its cover, here you go: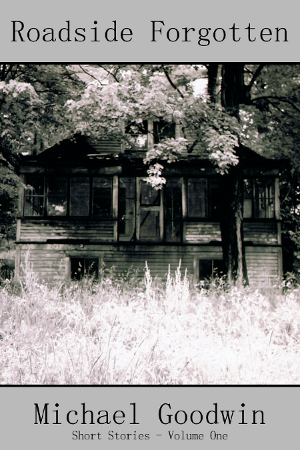 I owe massive amounts of thanks to those of you who have been so incredibly supportive of my writing endeavors over the number of years I've been writing here, and for those who helped provide some much needed inspiration. Thank you very much!
P.S. For the inquiring minds, I took the photo that I used on the cover. I've driven by it for years and years, and it's the house I had in mind when writing one of the stories included in the book. I think you'll know which one I mean.