If I was a young, impressionable kid, and I saw this at the store, I'd be horrified: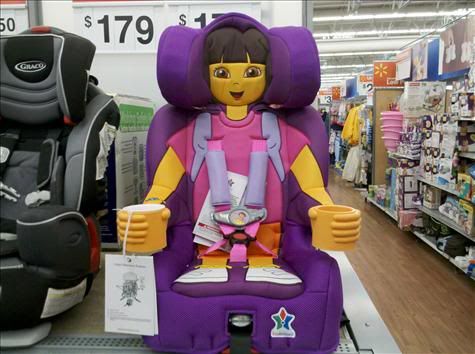 Once I got over the excitement of seeing one of the characters I've seen on TV in something tangible, I'd start to realize what was awfully wrong about it. First of all, she's obviously been in a tragic steamroller accident, because she's very, very flat. I would then imagine that someone tried to save her from the steamroller but only succeeded in stretching her arms out like Stretch Armstrong and giving her gargantuan hands (equipped with cupholders). Thirdly, clearly something bad happened with her legs, too, as they're pretty short. Well, I guess they only look short because of her ginormous arms and torso.
This is a prime example of going to far for the sake of product tie-ins. When I was a kid, my Teenage Mutant Ninja Turtle underwear was enough for me.
Happy Monday, folks.