It never fails. You think you know somebody, and then they go and do something so completely off base that forces you to change your opinion of them. Like my
drug growing
,
hoarding
neighbors downstairs. This time, instead of judgmental opinions, I have hard evidence to back up my thoughts.
I had to make a trip down to the basement of our building to reset a circuit breaker yesterday. The basement is a creepy place, dirt floor, cobwebs, and plenty of dark corners for things to lurk in. Armed with my flashlight I quickly reset the tripped breaker, and went back upstairs. To get to the stairwell, though, I had to pass the door to the back entrance of my downstairs neighbors apartment. I saw something taped to the door, so I stopped to look. And of course, the one time I leave my camera phone upstairs, I get something like this:
(Artist Rendering)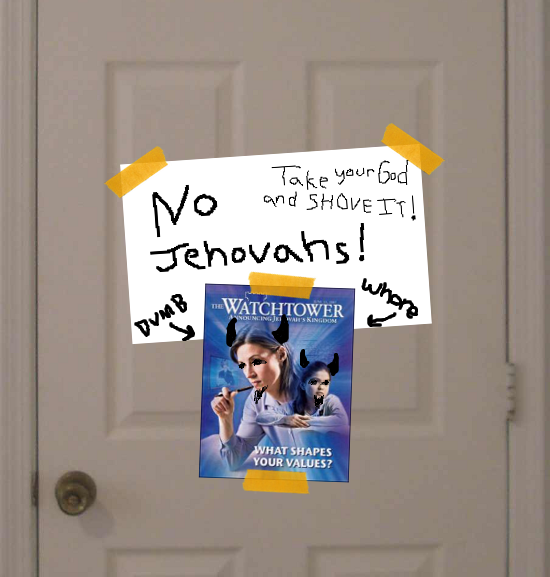 Don't get me wrong. I dislike being accosted by tie-wearing mobile preachers just as much as the next person. I just thank them for trying, and send them on their way. My downstairs neighbors apparently take a different approach to protecting their atheism or agnosticism.
Reactions like this to the religion of others is one of the reasons why we have unrest in the middle east.