There are times when I think about words, and how one word can have totally different meanings depending upon context. After spotting something in the local Family Dollar the other day, I got to thinking about the word "almost".
In most cases, it signifies how close you came to something but ending up short. You almost won the game. You almost got that promotion you've been after. You almost picked the winning lottery numbers. In other cases, it can mean that you avoided something bad. Your significant other almost killed you trying out that new recipe last night. You almost stepped in a pile of dog crap. You almost wound up working with Smelly Steve, the office
ablutophobe
, on reorganizing the cramped supply closet.
Seeing the phrase "Almost Real!" on a box containing a battery-operated hamster is another way the word can be used. To describe the utterly ridiculous.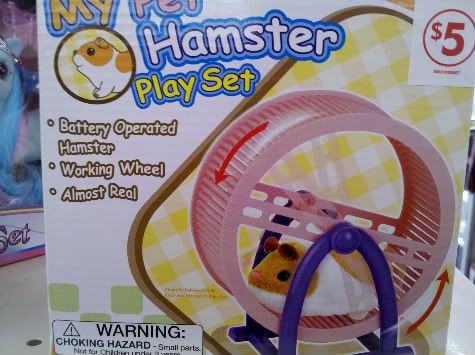 There is nothing "almost real" about this. It's a battery case/motor/wheel assembly shoved inside a fabric carcass that sort of looks like a hamster. I'll concede to the fact that it has a passing resemblance to an actual hamster, but only in the way that Bugs Bunny looks like your everyday rabbit. To me, it looks like a small, furry torpedo with ears.
And here's another thing. Saying that something is "almost real" should mean that it is only a few small steps away from being the actual thing. This $5.00 wonder of mechanical engineering is as close to being an actual hamster as the current-day Michael J Fox is at being a skilled surgeon. In other words, not very close at all.
And yes, before you ask, I almost bought it.
Almost.
Happy Monday, folks.