I'm not often stunned by something I see. Surprised that it exists, sure, but slack-jawed stunned? Very infrequently does that happen. What does it take to rock me back on my heels, you ask?
This: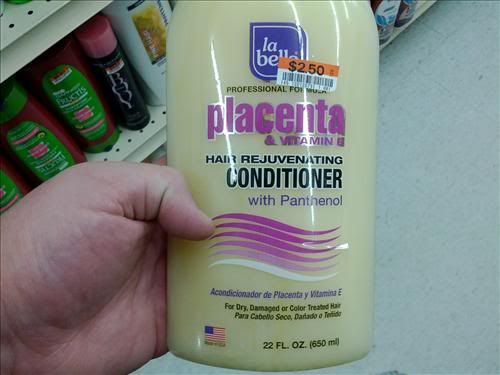 Placenta hair conditioner? PLACENTA. HAIR CONDITIONER.
People do a lot of freaky things with placenta, and honestly, what those people decide to do with the chunky carnage that is afterbirth is their own choice. Different strokes for different folks and all that. I also understand that there is a market of people with hair problems that want a more holistic remedy. But putting animal placenta in your hair? Hell, no. From what I was able to find briefly online, there are lot more uses for placenta than I care to know about. I just can't fathom putting it on your hair in attempt to bring more life back into it.
Now, if you'll excuse me, I'm going to go try to find alternative uses for my toenail clippings and earwax.